Orthodontics
Dr. Chiu is keeping up with advancements in adult orthodontic procedures. Many new developments in today's orthodontic treatments have focused on helping adult patients. If you live in the Highland area and your teeth are crooked, call us at 909-425-2500 to schedule a consultation to discuss possible orthodontic treatments. It may be that adult orthodontics are just what you need to attain a smile you can wear with confidence.
Invisalign® Clear Braces

Everyone's talking about Invisalign braces, and for good reason. Invisalign braces have completely transformed the way we think about and experience dental braces. With Invisalign braces, there's no worry about metal brackets and wires that are uncomfortable and unattractive. Invisalign braces include a series of clear plastic aligners that are virtually invisible and completely removable. You can eat what you want, drink what you want, and brush and floss more thoroughly to keep your dental health in top shape!
Traditional Braces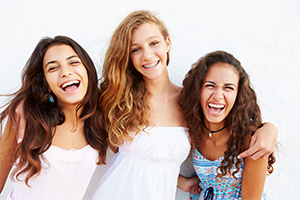 Dental braces have come a long way – today's dental braces look, feel and function better than ever. Along with traditional metal braces, there are now a variety of dental braces to fit every need and budget. Clear dental braces use an innovative sliding technology instead of wires and have small, clear brackets that are virtually invisible. Lingual dental braces are metal braces placed on the back of teeth, completely hidden from view. Invisible dental braces don't use brackets at all; they include a customized set of clear plastic aligners that can be removed while eating, drinking, brushing and flossing. If a beautiful, straight smile is what you're after, you can't go wrong with dental braces – no matter what your age!