Sleep Apnea Treatment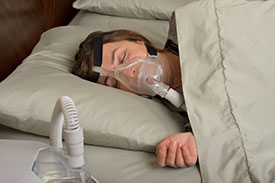 If you wake up feeling groggy every morning, or have a difficult time concentrating throughout the day, you could have sleep apnea. Apnea is Greek for "without breath." People who suffer from sleep apnea literally stop breathing while they sleep, for about 5-15 seconds at a time. Sleep apnea is one of the leading causes of chronic sleep deprivation, daytime sleepiness and poor concentration and can lead to more serious conditions if left untreated.
Sleep apnea can be treated in a number of ways. Continuous positive airway pressure (CPAP) therapy is one of the most common treatments, but many patients have a difficult time adapting to the bulky CPAP mask. If this sounds like you, you've come to the right place. Sleep apnea dentists offer comfortable and effective alternatives minus the bulk. Our dental devices open the airway to ensure that you breathe properly while sleeping and can, finally, get a good night's rest.